Start a Website
'Turn Your Passion Into Profit'






Do you have a passion or hobby that you love and enjoy? Start a Website and share it with others! You can

turn your passion into a profitable business

and start making money at home doing what you love to do. When you start a website it takes persistance, dedication, and work. And, no, you don't have to be a computer tech or web designer! If I can do it, you can do it!

This site,

Carolina Sand and Surf

, was my first website. When I got started I barely knew how to check my email and search on Google, but I used a fantastic step-by-step program called Site Build It!, that guided me every step of the way.



"Choose a job you love, and you will never have to work a day in your life." -- Confucius


'My Story'

Who am I?
My name is Jo Ann, and this is my very own website,

Carolina Sand and Surf

. I am from the beautiful State of South Carolina. I love my home and I enjoy sharing it through my website!

I kept reading and reading, and not DOING! I'm sure this is the reason Site Build It! named their course the

ACTION GUIDE

! It is a step-by-step, self paced, hands on approach. Give your business time to grow, just like any new business.

Learn from my mistakes and start with a program that doesn't leave anything out. Don't waste your hard earned money on programs that always promise and never deliver. Mistakes cost money. Get educated, get a coach, someone that knows the business.

Get Site Build It!


Before you go, please click on the video below for a grand tour, you will be impressed! I promise!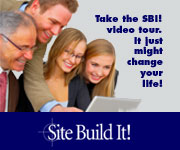 Ready to Get Started?
Isn't it time to invest in you and your future? Maybe some retirement income? You can work at home in your cute, fuzzy bedroom slippers (sorry guys, maybe your socks?) just like me! Getting started is the hard part. It will all come together like a puzzle in no time at all.

I appreciate the time you've spent with me and

I truly wish you much success with your new website!

And, send me an email if I can help in any way, or better yet, keep me posted on how great it's going for you! Keep smiling!

To your wonderful success,




Jo Ann


Return from Start A Website to Carolina Coast Vacation